Genieten in meesterlijk 'Dordt' is koud kunstje

Uiterlijk is belangrijk. 'Het oog wil ook wat', zeggen we in zo'n geval. Oogverblindend is in dit opzicht de stad Dordrecht. Het aantal bezienswaardigheden in de oudste stad van Holland is onnoemelijk groot. Tel er de talloze mogelijkheden voor plezier en vermaak, lekker eten, drinken, winkelen of wat je maar wilt bij op, en je bent spekkoper.
Een 'beauty'
Ongeacht de behoefte, in Dordrecht zul je altijd slagen. Persoonlijk was ik enorm verrast toen ik de stad voor het eerst bezocht, prachtig gelegen in de provincie Zuid-Holland op de plaats waar de Merwede zich splitst in de Noord en de Oude Maas. Een 'beauty' met veel verrassingen in de vorm van ontelbare architectonische gebouwen, talrijke monumentale panden, de meest mooie standbeelden, oogstrelende kunstwerken en ga zo maar door.
Waterbus
We hadden voor de gelegenheid de waterbus genomen. De snelle openbaar vervoer veerdienst vond ik al een ervaring op zich. De trip over het water bleek echter 'slechts' een mooie voorbode te zijn voor nog groter genieten in de stad zelf.
Eenmaal aangemeerd weet je nauwelijks welke richting je zult kiezen. In Dordt, zoals veel inwoners van Dordrecht hun stad liefkozend noemen, kun je alle kanten uit. Genieten is er een koud kunstje. In noord, oost, zuid of west. Elke windrichting biedt volop bezienswaardigheden.
Onderwijsmuseum
Vlakbij het station ligt bijvoorbeeld het Nationaal Onderwijsmuseum met de grootste onderwijscollectie ter wereld. Alleen al de locatie van het museum, gevestigd in het zorgvuldig gerestaureerde gebouw De Holland, is verbluffend mooi om over de collectie nog maar niet te spreken. Je raakt er niet uitgekeken, wat bijvoorbeeld ook geldt voor het Nationaal Medisch Museum en het Landschaps- en Verzetsmuseum, wat je ook in Dordrecht vindt.
Meesterlijk
Overweldigend in de stad zijn de oude binnenhavens met tal van historische koopmanshuizen en tientallen woningen met een zogeheten Dordtse gevel, een eigen geveltype dat in de 16e eeuw werd ontwikkeld als meesterproef van het metselaarsgilde. Meesterlijk!
De Grote Kerk
Van een voortreffelijke schoonheid is de Grote Kerk. Deze kruisbasiliek in Brabants-gotische stijl is één van de circa negenhonderd Rijksmonumenten en de grootste kerk in de stad. Heel bijzonder is haar onvoltooide toren en haar carillon dat met zijn 67 klokken tot de grootste in Europa behoort.
Het Hof
Het Hof is een van pleinen in de binnenstad van Dordrecht. Je vindt er het Augustijnerklooster met dezelfde naam. Het klooster was een geschenk van Floris V en heeft onder meer dienst gedaan als woonhuis voor Willem van Oranje. Na een brand in 1512 is het gebouw in Renaissancestijl herbouwd. Tegenwoordig doet het gebouw dienst als cultureel centrum. Prachtig om te zien!.
Handelsstad
Dordrecht kent een heel rijk verleden. Met name in de Middeleeuwen ontwikkelde het zich als een belangrijke handelsstad. In onder meer beelden, gebouwen en geschriften is daarvan nog heel veel terug te vinden.
Struinend door de stad val je van de ene verbazing in de andere. Dordrecht is historisch, maar ook hedendaags en modern met faciliteiten en evenementen voor alle leeftijdsgroepen.
Allround
Een allround stad waar onnoemelijk veel te ontdekken en te beleven valt. Er is met gemak een Top 100 van beziens- en wetenswaardigheden over de stad te maken, maar dan nog zou het slechts een kleine greep zijn uit het overstelpende aanbod.
Overblijven
Ondoenlijk om het op te sommen, laat staan om het in een dag te ontdekken en te beleven. Een of meerdere nachtjes 'overblijven' is dan ook aan te raden. Slaapgelegenheden zijn er meer dan zat. Kijk voor het aanbod van hotelarrangementen in Dordrecht maar eens op Goedverblijf.nl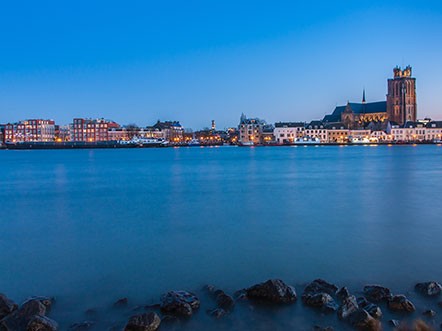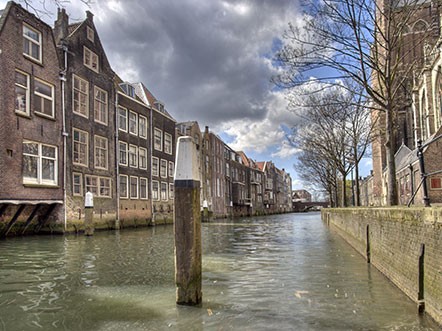 Gerelateerde berichten